Media And Marketing Is So Lost, They Don't Even Care What They Say Any More …
February 2, 2023, 7:50 am
Filed under:
A Bit Of Inspiration
,
Attitude & Aptitude
,
Australia
,
Brand Suicide
,
Comment
,
Corporate Evil
,
Embarrassing Moments
,
England
,
Influencers
,
Management
,
Marketing
,
Marketing Fail
,
Perspective
,
Positioning
,
Pretentious Rubbish
,
Revenge
,
Social Divide
,
Social Media
The media – and marketing – have perpetuated all manner of stereotypes over the years.
They spend enormous amounts of time and money painting psychological beliefs into society so they can profit from others shortcomings or vulnerabilities.
They don't care if it destroys lives, to them that's just canon fodder in the quest of riches, so everything is justifiable.
Which explains why we see so many things being labelled by the media and marketing industries … because it's the perfect way to achieve mass social psychological manipulation.
You name it and they'll have given a name to it.
Superfast.
Superfoods.
Superhair.
Supersoup
They'll use a label to sell anything … from kale to self-help books to gender roles.
And while that is a fucking horrible way to behave, there is one thing that is pretty impressive and that's their ability to not just never stop doing it … but to never stop inventing new bullshit labels to fuck with people.
Take a look at this …
A CEO body?
A fucking CEO body?
What does that even mean?
Do all CEO's share a particular physical format?
I mean, I know Elon and Jeff went from dweeb to muscle mountains, but I've still met a bunch of CEO's with very different body shapes to them.
Also, what sort of CEO are they talking about?
A CEO of a big company? A start-up company? A fast-food company?
Do they lead 3 employees or 33,000 employees?
Are they heading up a profitable company or a crypto disaster?
Do they write thought leader pieces on Linkedin or are they living in a social media blackhole?
And why are you only showing a man?
A white man.
Is it because you think only white men can become a CEO?
Have you inadvertently just explained the real reason behind corporate racism, prejudice and the glass ceiling all in one go?
And while I'm at it, can you explain what you mean by the term 'midlife' in your headline?
What is that?
Is it a specific number?
Is it 30?
What about 40?
I bet it's a mid-number like 45 or something … just to mess with us.
Come on, don't keep it to yourself. Is there a standard 'midlife' no one told me about.
You can tell me. I know at 52 I've likely passed it, but I'd still like to know.
Finally – and I really don't want to be picky here – but why are you telling everyone what the 16 foods ALL men should be eating are?.
Is it CEO food?
Don't CEO's eat fancy and expensive stuff?
And if all men eat it, does that mean all men will become CEO's?
How will that happen? Are there enough CEO jobs to go round to make that happen?
And what about the women who are CEO's? Do they eat that food as well? Is that how they got to the top … they ate like a man and had a body like a man?
I'm so confused.
In fact the only thing that's clear to me is how you're using marketing labelling bullshit to add even more expectation and judgement on people's lives just so you can attempt to profit even more from making society question how they are supposed to look and live.
All this coming from The Times newspaper.
The fucking Times!!!
Once the pinnacle of journalism and standards, now a peddler of utter horseshit.
Even more so when you think what their CEO's body is like …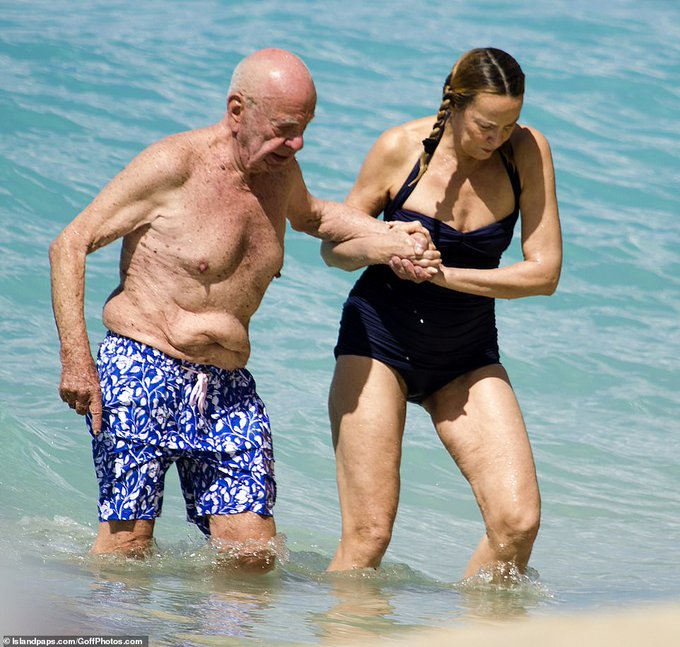 Maybe I'm wrong, but I'm pretty sure no one would want to look like that, let alone be like that.
And if The Times think they do, it may help explain why their readership keeps falling.
Dickheads.
Oh I really enjoyed writing that.
Comments are closed.