Work With The Man That Owns This Magnificent Specimen Of A Pooch …
October 29, 2012, 6:15 am
Filed under:
Comment
… or the man that conveys uber-professionalism in his photos.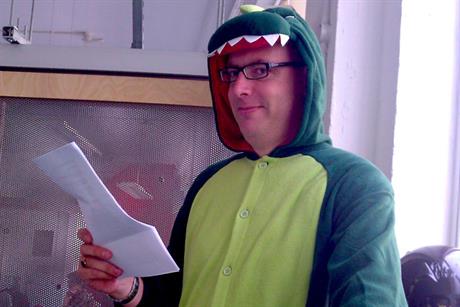 I am of course talking about Paul Colman & Kevin Chesters, the wonderful heads of planning at W+K.
You see the London office has just launched a new initiative that offers 3 months internship in the ultra-awesome planning department of W+K London.
More than that, it's a 3 month PAID internship … which let's be honest. is exactly what it should be.
Now I know what you're thinking,
"But that's not new, agencies have been doing that for years."
… and you'd be right, but there are a few differences with our version.
1. It's at W+K.
2. You'll be working alongside some of the best people in advertising [note: I didn't say 'advertising people', because great communication comes from people who live life, not a lifestyle].
3. You'll learn and develop under some of the best in the biz, not just in planning, but in every department.
4. You'll be part of one of the most interesting, creative, challenging and downright lovely planning teams around.
5. You'll get to do the sort of stuff – on the sort of brands – that you thought only existed in the most extreme of planner hardcore porn fantasies.
6. You'll be in countless Paul Colman 'insitu' instagram photos.
While those reasons are all amazing and compelling, the best reason of all is that you'll get to spend a bunch of time with Paul and Kevin.
Apart from being two of the smartest and nicest [when they're in a good mood] guys around, they are also enthusiastic, worldly and hands-on.
I've previously written that one thing I love about W+K is that their planning departments are run by people with diverse backgrounds – from Dolly Parton/Metallica roadies to cage fighters to crime fighters to World travelers to errrrm, ex-Terrance Trent D'arby guitarists and pretty much everything in-between – which means you get actively encouraged, pushed and prodded to explore more broadly, deeply & weirdly … which not only makes your job more interesting, but helps actively create commercially valuable distinction in a world of ever-growing parity thanks to the addiction of ever-growing pointless propriety tools.
[Sorry for the utterly long sentence there. Went off on a bit of one there]
In fact the only downside I can foresee is that you'd have to listen to Graeme Douglas go on and on and on about how ace running is.
And Leeds United.
And Call of Duty.
And his kids.
But even then, the bugger is so ridiculously clever and lovely that it will be well worth the pain and sacrifice.
So if you're interested or want more details, all you have to do is click here.
While I obviously work at W+K, the fact of the matter is that this is a really great opportunity so I wish everyone who applies, the best of luck.
You most certainly won't regret it.
21 Comments so far
Leave a comment