Expectations Are In The Eye Of The Beholder.
February 15, 2012, 6:10 am
Filed under:
Comment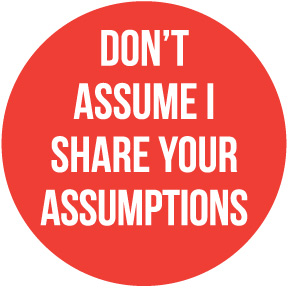 So recently I had a major falling out with a very dear friend of mine.
A major falling out.
And a very dear friend.
The problem was, I didn't know she was angry until she wrote an email featuring some of the most vicious accusations you could ever hope not to get.
She was majorly pissed off.
So pissed off that she was happy to write off a 15 year friendship, despite us having supported each other through all sorts of trials and tribulations in all sort of situations.
And what was it that had caused all this anger?
I didn't send a card when her new born baby was born.
OK … OK … so I should have, but it's not like I wasn't in contact or telling her how happy and proud I was on a regular basis.
But that sounds like I'm justifying myself and that's not the point of this post.
The point is my friend expected me to react to her big news in a certain way and when I didn't, she took it as a major – and personal – insult.
But I didn't know.
I didn't realise.
And while you may think this makes me thick – and maybe I am – it provides a valuable lesson for her, for me, for you …
DON'T ASSUME.
Don't think people – even people you have known and worked with for years – are always going to be on the same wavelength as you.
That doesn't mean you have to treat people like village idiots because at the end of the day, if people don't react or respond in the way you hoped, you have to accept that you might have to shoulder some of the blame.
Did you tell them what you wanted? What you expected? What you hoped for?
Did you explain why it was important to you?
Did you give them any information at all?
This is more than two friends having a bust-up … adland is terrible at giving [and taking, but that's a post for another day] direction.
Maybe it's because we think it's 'un-creative' … but there's a big difference between articulating expectations and dictating how you want it done.
Explaining your expectations up front allows clarity right from the start.
It means everyone knows where they stand and gives them the chance to express their point of view or perspective before any issue has a chance to take hold.
So often we take other people's understanding of what we want for granted … and while 90% of the time, we might get away with it, that doesn't mean we should continue in this manner because it just means that when something does fuck up, the level of anger will be even greater because both parties will think the other person understood them and their mistake is a sign of selfishness.
I feel terrible about my friendship, however while I accept I might have done better … I also know it's impossible to live up to someone's expectations when they haven't told you what they want.
Life is full of complexity and confusion without us adding to it, so make sure you're assumptions won't come back to deeply hurt you.
57 Comments so far
Leave a comment